Northeast Ohio Female Pentathlete Rockets to the Top
Tuscarawas County athlete takes home the gold at Summer Games 2023
By Olivia Hovorka

---
Allison Halsey, a pentathlete from Tuscarawas County, presents herself with maturity and grace far beyond her young age of 15. I had the pleasure of meeting this confident young woman after the high jump portion of her pentathlon on June 24th at the Special Olympics Ohio Summer Games at Jesse Owens Memorial Stadium. Right off the bat, I took notice of her natural athleticism and great form. I soon realized that she was the only female competing in this event, which she later told me she enjoys. "I take it as a challenge," Halsey said over our Zoom interview, "I at least gotta beat a couple [boys]" she exclaimed with a bright smile on her face. Allison chooses to compete with the boys at regional and state competitions instead of the more comfortable option, competing against, and racing herself. Although she enjoys going up against the boys, Allison "would love to have another girl" to compete against.

Allison's confidence and humble nature contribute to her athletic success and her performance at Summer Games proved that. Allison's high jumps were captivating and inspiring and her 400m race the next morning was just as thrilling. Allison's last event of the weekend was the 400m Sunday morning. She had previously competed in high jump, long jump, the 100m dash, and shot put (the other four events in the pentathlon). Allison's favorite event in the pentathlon is high jump and she finds that long jump presents the most difficulty for her.

Allison also competes in swimming, basketball, and volleyball in Special Olympics and is a member of Newcomerstown High School's marching band and track team. Basketball is the toughest for her, but after getting to know Allison, she is not one to back down from a challenge. She began competing in pentathlon events as the only girl for Special Olympics after competing for her high school track team. She has been competing in Special Olympics Ohio events for five years, simultaneously continuing her high school athletic career.

Allison's mom, Sarah McVey, who also doubles as her coach, explained that Allison competed well at Summer Games and her performances showed just that. Sarah has been Allison's role model, coach, supporter, and motivator throughout her athletic journey, and their dynamic relationship has definitely set Allison up for success. She has encouraged Allison throughout all her training which consisted of scheduled Rockets practices once a week as well as going on runs as frequently as she could before Summer Games. After Allison's last race on Sunday, they were off to grab Starbucks before returning to the track to support the rest of her team, the Tuscarawas County Rockets. When Allison was young, her nickname was Starbucks because it was the only way Sarah could motivate her to go to practice. Now however, Allison has all the motivation and grit within her, and orders a vanilla cream cold brew with four pumps of white mocha to reward herself after her hard work at practice and competitions.

Allison enjoys Special Olympics due to its close knit and supportive community. She values the Special Olympics' focus on fun and giving your best effort rather than just intense competition. Allison's athletic goals are lofty – she hopes to compete in World Games – and with her dedication and charisma, she is poised to achieve anything she desires.

Check out @specialolympicsoh on Instagram to hear Allison's thoughts about what Special Olympics and the State Summer Games mean to her. If you're interested in competing in the pentathlon, please see your coach or local coordinator.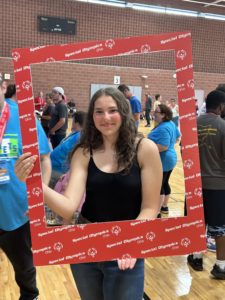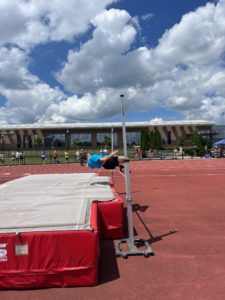 Author Olivia Hovorka is a MarComs intern for Special Olympics Ohio. She is a student at UC Santa Barbara and a member of the Gauchos Swim Team.